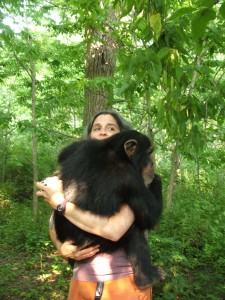 I've long been interested in consequentialism and consequentialists. I have written about impartiality in ethics and about some of the limitations of Peter Singer's version of utilitarianism. Relatedly, I'm interested in theories of well-being and the intersection of these theories with psychological research, philosophy of mind, and some work in philosophy of psychology. I've been developing a view about moral perception that is based on a particular understanding of entangled empathy. This work ties my theoretical interests and my concerns for animals together in cool ways.
I'm currently working on a book on animals minds and continue to write about the epistemological and ethical issues raised by our relationship to captive chimpanzees.
My work with chimps lead me to think deeply about the ethics of captivity for humans and non-humans alike. I have an edited volume The Ethics of Captivity (Oxford University Press).
I have also been teaching political philosophy in a maximum security men's prison for a number of years through Wesleyan's Center for Prison Education.  That has prompted me to think and write about the social basis of self-respect.