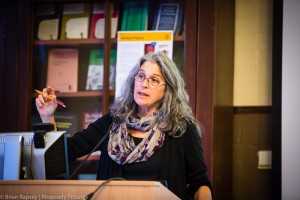 Lori Gruen is the William Griffin Professor of Philosophy at Wesleyan University where she coordinates Wesleyan Animal Studies. She is also Professor of Feminist, Gender and Sexuality Studies and Science in Society. She is the author and editor of nine books, including Ethics and Animals: An Introduction (Cambridge, 2011), The Ethics of Captivity (Oxford, 2014), and Entangled Empathy (Lantern, 2015). She is a Fellow of the Hastings Center for Bioethics and a Faculty Fellow at Tufts' Cummings School of Veterinary Medicine's Center for Animals and Public Policy and was the first chair of the Faculty Advisory Committee of the Center for Prison Education at Wesleyan. Gruen has documented the history of The First 100 chimpanzees in research in the US and has an evolving website that documents the journey to sanctuary of the remaining chimpanzees in research labs The Last 1000.
Her research lies at the intersection of ethical theory and ethical practice. She has written on a range of topics in practical ethics and her current projects include exploring human entanglements with non-human animals, both actual and conceptual, with an emphasis on ethical and political questions raised by captivity and carceral logics.
Her work is guided by two broad philosophical commitments. First, is the belief that ethics should be aimed primarily at enhancing well-being.  The second philosophical commitment is to justice, although her interest in justice tends to identify unjust distributions of benefits and burdens, including respect, in areas that have previously been set to the side by others working on questions of justice. So, for example, she explores the ways in which environmental degradation or mass incarceration disproportionately impacts poor communities, communities of color, women and children. In addition to the familiar concerns about injustice against certain individuals or communities of people, her work is also centrally concerned with injustice to non-humans.
My CV can be downloaded: Gruenvita2015